CLEAR
ODORLESS

QUICK-DRYING

AndroGel 1.62% is a topical testosterone replacement therapy gel available in a metered-dose pump or travel-ready packets. It can help restore your testosterone levels back to normal*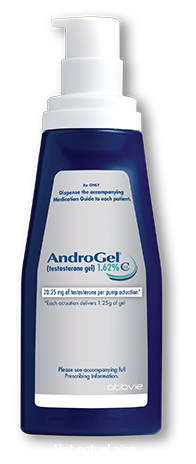 Dosing instructions:
GETTING STARTED
It's important to set your expectations of therapy appropriately. Ask your doctor about:
The amount of time it may take to raise your testosterone level
The need for ongoing monitoring to ensure you get the right dose
The proper method to apply AndroGel 1.62% daily
Start on 40.5 mg—pump or packets1
The application site and dose of AndroGel 1.62% are not interchangeable with other topical testosterone products.
FOLLOWING UP
Your doctor will want to test your treatment and adjust dosage as needed1
To get you on the correct dosage of Androgel 1.62%, you will be making a few more doctor visits after starting treatment1
14 and 28 days after starting treatment
Following dose adjustment
Periodically during treatment; your dose may be adjusted based on your response to treatment
*300-1,000 mg/dL with daily morning use.